About the Trilogy
Three books that read like an epic adventure
Obscure interchaptoral quotes and comments that twist the storyís meaning a dozen different ways
Transcripts of 3 debates involving 11 experts gathered from 4 continents
Strap in for the ride of your life.
Hot from the pen of Wall Street Journal and New York Times best-selling author Roy H. Williams, Destinae chronicles the transformational journey of a lawyer named Intellect and a Beagle named Intuition as they travel the pathway of life. On the surface, it's an enchanting childrenís fable but ponder the comments youíll find between chapters and the book explodes with colorful new meanings. Startling revelations emerge in each short chapter at a pace that will leave you breathless.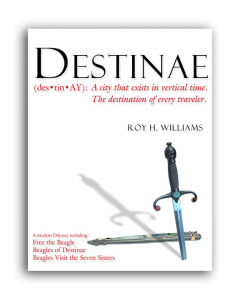 Children will hear a riveting adventure story.
Romantics will touch a powerful love story.
Psychologists will be bombarded with J ungian shadow.
Physicists will revel in the complexities of Chaos Theory.
Businesspeople will see a sharp lesson in enterprise.
Astronomers will watch a pageant of the constellations.
Believers will hear an affirmation of faith.
Do you know what will happen to you in Destinae?
Available as:
A 3-CD audiobook, professionally enacted with music and sound effects by 19 character voices. Also available as
A 380-page hardback trilogy, complete with interchaptoral comments and a series of fascinating debates among international experts regarding the true meaning of the story.