Which Character are You?
With which character in the book did you identify most?
Post your character choice and your reasons for it on the Beagle Message Board.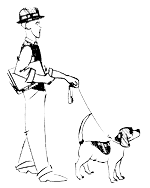 The Lawyer, Intellect, before Epiphany
"The lawyer ran down the checklist in his mind as rapidly as his feet marched down the sidewalk… Papers. He could feel his briefcase jangling at the end of his arm, but had he remembered to place the documents inside? He stopped succinctly, spread his kerchief smoothly across the top of the newspaper stand and lowered his black leather case upon it. He dialed the combination. Click-click. Yes, correctly bound and properly stored. Shoes polished? Looking down, his own stern reflection glared back at him from twin black mirrors. He wasn't unfriendly, no matter what people might say; he was dignified. And busy, very busy."
The Lawyer, Intellect, after Epiphany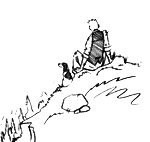 "The lawyer stretched out shamelessly upon the stone and the sunlight warmed his skin. He thought of the newspaper stand and laughed. He looked at his battered shoes and laughed harde r still. It felt good to laugh. He only wished the beagle were here to laugh with him…" "Staring out of the cave and into the night, the lawyer studied the winter stars. Thinking back upon his days in Town Square, he blushed when he remembered how angry he had been when Judge Grey had insisted that their journey begin after dark. It was obvious now that the old judge clearly knew of the importance of following Polaris. But he also knew the lawyer would need to discover it for himself."
Judge Grey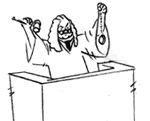 "In a sweeping motion, the judge lifted his watch with his left hand and raised his gavel with his right. Glancing at his watch, he said, 'You have eight hours to make yourself ready for Destinae.' BANG went the gavel and the judge leaped to his feet."
"Looking over the rim of his glasses, the towering judge said, 'You have questions, Counselor Intellect?'"
"Certainly there is a schedule; charts, maps, a budget!"
"Framed now in the doorway to his Private Chambers, Judge Grey turned to face the lawyer, 'Your journey will take what it takes.'"
And he was gone.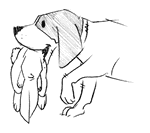 The Beagle, Intuition
"The moment the belt was off her neck, the beagle disappeared, 'Arooo! Aroo-aroo!' out of the clearing and into the woods." "Now that she was allowed to run free and unfettered, the beagle was clearly getting faster and stronger. And each evening as they sat by the fire in the cave, they would feast together on the beagle's catch of the day. What a variety of game the beagle was finding in the forest! It seemed to the lawyer that the forest was not a bit confusing to the beagle, but was truly a Forest of Opportunity."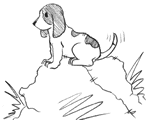 Faith
"Faith, the male puppy, was courageous and quick and able. Always ready to climb or wrestle, Faith was quick to let you know he was there." "[He] would climb a rock and bark just to show you that he could do it."
Hope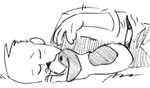 "Hope, on the other hand, was cuddly and tender and loving. Much quieter and softer than her boisterous brother, Hope was drawn to where there was pain. Many a cold morning when the lawyer was feeling blue, Hope would snuggle up close beside him and nuzzle his cheek until he smiled."
The Hunter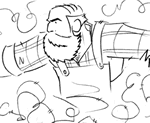 "Looking now with grave concern at the frail lawyer and the dog, the hunter asked, 'How long has't been since your last meal?' The lawyer told him their story as the hunter prepared the rabbit and the fire. When the lawyer finished speaking, the hunter remained silent for awhile. Then, speaking more to himself than to the lawyer, he turned and looked with deep curiosity at the beagle. 'B'why would'na' a hoongry hoond a'eaten the hare instead o' bringin' it here?'"
Mayor of Compromise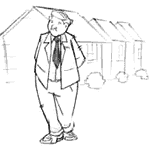 "'We are a simple people,' the mayor proclaimed with manufactured humility, 'but we're more than happy to offer you such as we have to share. Fresh baked bread, cold beer and whiskey flow in abundance here. Does it get any better than this?"
"'You asked a foolish question today,' said the mayor, 'You're still considered a newcomer to our village, and therefore the people have chosen to forgive you. But in the future, you'll be expected to behave more like one of us.'"